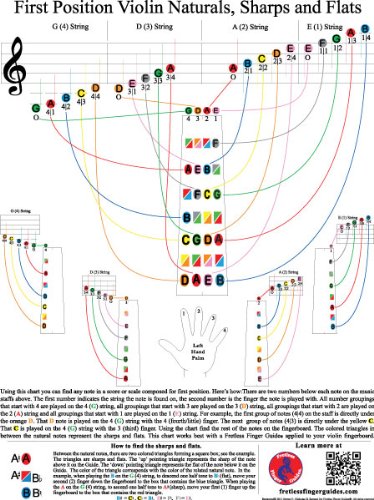 buy now

$17.37



This 18″ x 24″ color poster shows you the first position music staff natural notes, where to find them on your violin fingerboard and how to find the sharps and flats. The violin note chart includes our unique and easy to understand violin tablature. The first position violin poster, together with the Fretless Finger Guide®, gives you a no-miss road map of your fingerboard. Includes one Fretless Finger Guide for Full (4/4) Size ViolinMaps out the locations of the first position notes for all four individual strings
Easy to understand color coded notation: all A's are red, all B's are blue, Etc.
Connects the first position notes on the music staff with the notes on the fingerboard. Shows how to effortlessly find the notes for first position violin scales
Instructs you how to find the fingerboard note locations for any first position score or sheet music
This product mails through the Post Office directly from Fretless Finger Guides in a large manila envelope, NOT a box or package. WE DO NOT MAIL TO FORWARDING SERVICES OR 2ND PARTY SHIPPING SERVICES THAT FORWARD MAIL OUT OF THE USA. Please do not order using one of these services addresses.