Flexzion Guitar Tuner Clip on Rotatable Portable Tuning Digital Chromatic Electronic Acoustic Bass Violin Ukulele Musician Instrument Accessory with LCD Display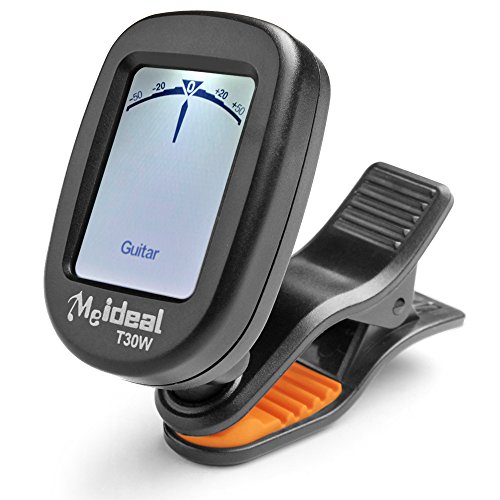 buy now

$9.99



A clip-on tuner clips on to an instrument—such as onto the headstock of a guitar or the bell of a trombone. A vibration sensor built into the clip tranmits the instrument vibrations to the tuning circuitry. The absence of a microphone makes these tuners immune to background noise, so musicians can tune in noisy environments, including while other musicians are tuning.
Chromatic clip-on tuner offers highly accurate tuning, fast and ultra-responsive results, and excellent visibility. It not only provides excellent visibility, but also very convenient to use when in the stage. The tuner is designed with small and exquisite appearance, so you can put it in your pocket as soon as you have done or leave it on instrument. Tuning is easy, to go from one note to the next is very fast ,almost instant so it takes less time to tune up. It is he best choice for every guitar, violin, ukulele or bass player who desires fast, accurate, and carefree tuning.
Specification:
Tuning scale: Chromatic, Guitar, Bass, Violin, Ukulele C/Ukulele D
Tuning mode: Vibration/MIC with Flat and Modulation
Tuning range: A0 (27.50 Hz) – C8 (4186 Hz)
A4 Range: 410Hz ~ 490Hz
Power: 3V, Battery(CR2032)x1
Dimension: 91mm x 64mm x 24mm
Package Content:
1x Clip-on tuner
1x User manual
Compact and lightweight clip-on style chromatic tuner provides easy operation to fix on the instrument
Features high precise detection and sensitive vibration for fast and accurate tuning
Flexible multi-angle view with the 360 degree rotational LCD display design
Clear, bright, and easy-to-read LCD display ensures high contrast and a wide angle of visibility
Perfect for the tuning of Acoustic, Bass, 6 & 12 string Guitars, Banjo, Mandolin, Ukulele, Violin, Cello, Trumpet, Brass, Sax, Flute, Woodwinds